Engineering Cambridge 105 - OB on a bike
1 January 2016 |
Comments
Another of the "how we do things at Cambridge 105" posts...
For New Year's Eve 2015, we decided to do a repeat of our "Where's Flossie - Live" treasure hunt, but with a difference: it would be around Cambridge, on bicycle! Without the luxury of a vehicle, the challenge was getting two-way broadcast audio and engineering talkback between our studio and Linda, presenting from her bike.
Given the built-up nature of the city and the impossibility of getting an aerial suitably high on a bike, we quickly ruled out using a direct radio link, instead using cellular data - Cambridge has good 4G coverage on most phone networks. Google Hangouts manages pretty good audio quality with relatively low latency, and most mobile phones actually have reasonable audio interfaces in them - but often let down by the internal microphone and speaker.
So, the broadcast setup: my phone, with an iRig Pre presenting audio in and out on useful connectors, connected to two radio mic receivers and a wireless in-ear-monitor transmitter, variously cable-tied to my bike and in my rucksack: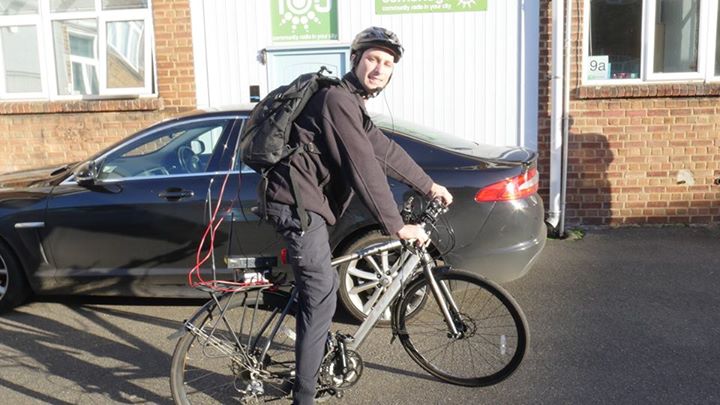 This was all powered by a 12V 7Ah sealed lead-acid battery. Battery capacity was a worry: the radio mic receivers draw about 0.25A each, and I assume the IEM transmitter is similar. That meant an overall discharge rate of about 0.75A, or enough to totally flatten the battery in about nine hours. Fine for a three hour broadcast - if the rather elderly battery was still near its rated capacity!
Linda, on her bike, wore a small headset-style radio microphone allowing her to talk while cycling, and the in-ear-monitor receiver. I carried a second hand-held radio mic allowing her to interview people on location.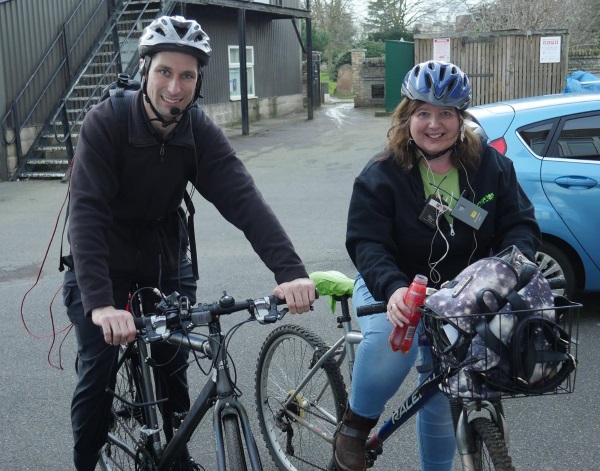 An advantage of this setup was that she could venture inside buildings with me remaining outside, maximising our chances of maintaining good cellular coverage - something that worked well at several locations. I could also monitor the broadcast without distracting her from presenting.
Lawrence, M0LCM, was engineering at the studio end, and the two of us also had an amateur radio link available for off-air chat between the two of us to help us liaise. APRSdroid, running on my phone, allowed him to see our location as we moved around the city.
comments powered by
---