SOTA Kit
12 February 2017 |
Comments
My first Summits on the Air (SOTA) activation was, apparently, 31st December 2007. It involved a 10m telescopic aluminium mast, 40Ah car battery and Icom IC-7000 lugged to the trig point on Detling Hill. Fine for a small summit like that, but entirely impractical for more challenging hills.
Since then, I've refined the equipment I carry. It's not as minimal as some folks, but it's working well for me at the moment: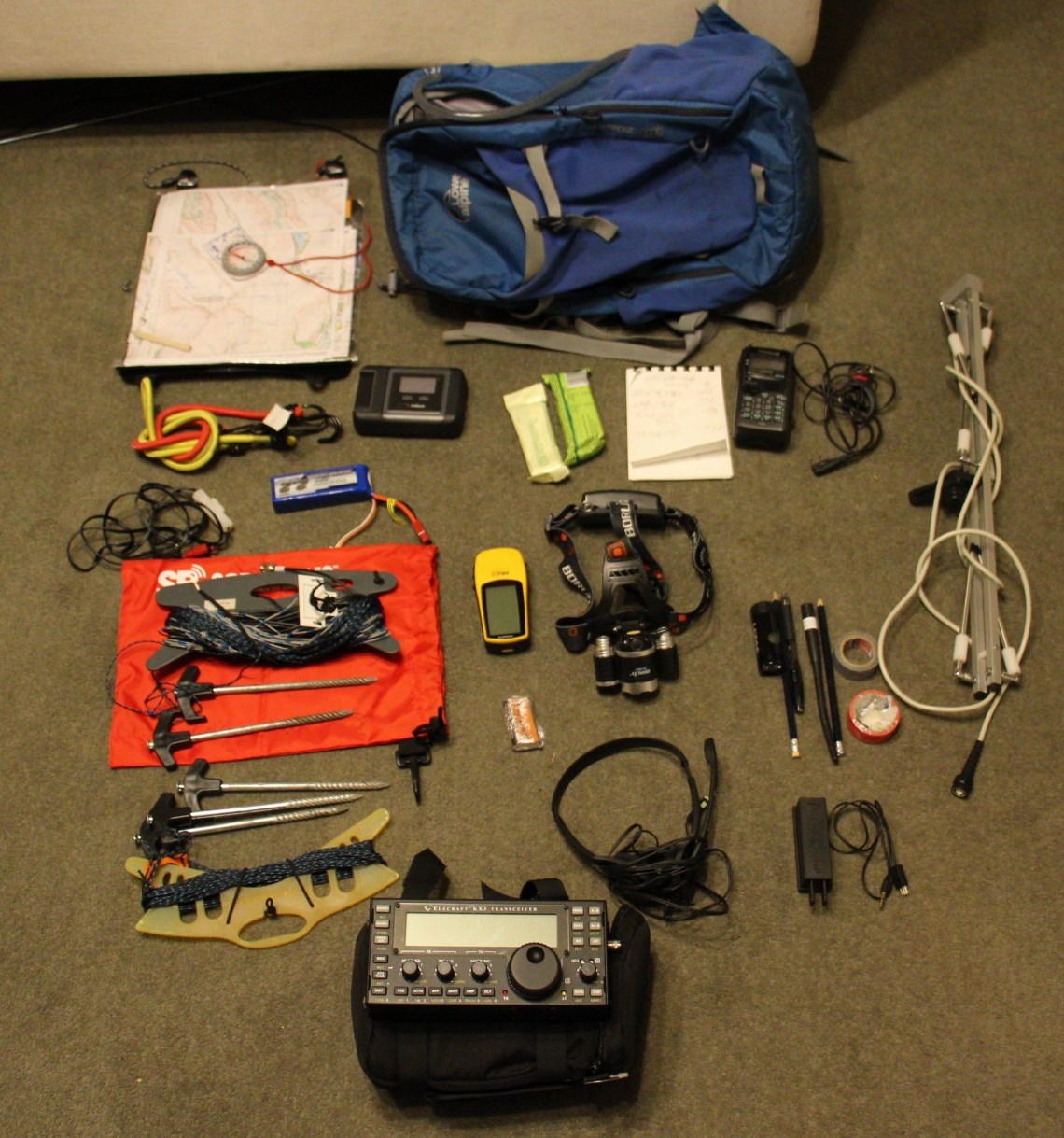 The key bits are:
Ordnance Survey map in waterproof map case. I pretty much never walk without one, even on "obvious" summits. I'd prefer to look a bit silly carrying a map than lost in the fog without one.
Map compass, for the same reason.
Bungee cords. Very handy for securing fibreglass poles to trig points, fences, or other convenient supports.
Iridium Go satellite modem. Sends position beacons to APRS while I'm walking, and lets me send spots even if there's no mobile phone coverage. Also helpful for booking dinner at the pub when you're a bit later than you thought you would be.
Snack bars.
Waterproof log book.
Kenwood TH-D72 hand-held and earpiece for V/UHF FM.
3-ele 2m fold-up yagi. Very quick to deploy and a useful improvement over the hand-held's own antenna.
2.2Ah 3S (11.1V) LiPo battery. More than enough capacity to run the KX3 for a couple of summits. A normal activation might consume 2-300mAh.
30m dipole, complete with RG-174 feeder and pegs, all wound on to a single winder.
Garmin eTrex GPS and spare batteries. Like the map, I'd prefer to carry one and not need it than wish I had it. Also handy for track logging.
Head torch, even if I don't expect to still be out in the dark.
Pencils for logging.
Electrical tape. Good for field repairs.
Guying set - ring, string and pegs, all on a winder. I use 2mm Mastrant cord.
Elecraft KX3, for HF.
Headset for KX3.
Palm Paddle for CW.
Not shown: 10m DXWire short fibreglass pole.
All of the above packs into the blue rucksack, which also contains a CamelBack water pack. Including water, it weighs around 8.5kg.
comments powered by
---